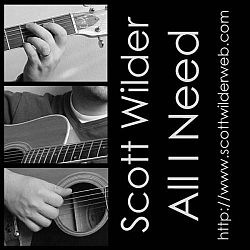 Scott Wilder is another Christian music artist I've come across on twitter recently. He's even here local in Indianapolis, so the opportunity to hear from a new AND local artist is always nice.
He recently released his "All I Need" album for purchase on Amazon.com. The album is self-produced and sounds great. You can listen to samples and purchase individual songs (or the entire album) at Amazon.com.
Free
You Speak to Me (Melissa's Song)
Follow You
He'll Be There
Beloved Bridegroom
You Said Yes
Not Too Proud
Well Done
Glory to You Lord
Holding On
Be There for the Moment (Amy's Song)
Psalm 9
Scott does a great job of mixing his guitar playing and singing together with other musical accompaniment, all of which I fairly certain he's doing himself. He's also tracked additional layers of vocals and singing which adds good depth to the music.
There are a few tracks that are reminiscent of some Tom Petty vocals in my opinion. The music is a mix of praise and worship type themes and choruses as well as standard contemporary Christian songs that vocalize the search and struggle for learning more and being continually faithful to our Savior and beliefs.
If you like to hear some great music from some independent artists, Scott Wilder's "All I Need" would be a great addition to your library.
Album Cover: Used with Permission from Scott Wilder