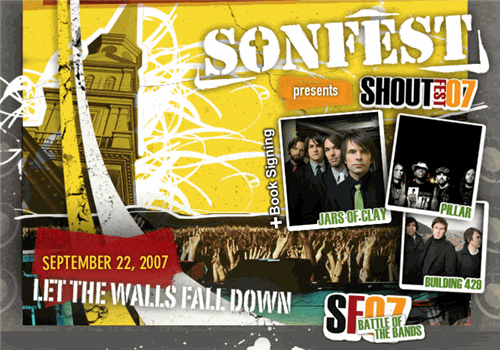 If you're in the Columbus, OH area and want to hear some great Christian music, you should head north for about 30 minutes and travel on over to Mount Vernon Nazarene University for their annual outdoor concerts.
Sonfest 2007 presents SHOUTfest 2007 with acts like Jars of Clay, Building 429, The Afters and Pillar to name a few.
You can find out more information at the MVNU Sonfest 2007 website.
Tickets: $20 at the gate, $15 advance, $12 Groups 10+
Technorati Tags:
Jars of Clay
,
Building 429
,
The Afters
,
Pillar
,
Mount Vernon Nazarene University
,
MVNU
,
SHOUTfest 2007
,
Sonfest
,
Mount Vernon Ohio
,
Ohio
,
Columbus Ohio