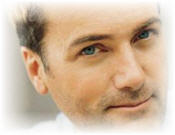 Who would have thought it would have taken this long for Michael W. Smith to be recognized in Music City, USA, a.k.a. Nashville, TN with a star on the Music City Walk of Fame? That's just what happened today.
Smith comments, "I'm thrilled to share this day with Emmylou, John, Wynonna, The Crickets and Frances.  I was surprised when I found out, and am humbled by the honor."

Jim Caviezel, who portrayed Jesus in the 2005 film The Passion of the Christ, is a longtime friend of Smith's and will serve as his presenter into the Music City Walk of Fame.
I guess it makes more sense when you think about the fact that this is only the 2nd year there have been inductees. Guess that makes it a pretty new honor and one well-deserved by Michael.
More big news from the Music City this week. We're kicking of the week of festivities for the 38th Annual GMA Dove Awards. I'll be posting full rundowns of the expected nominees and awards this week as well as the results after Wednesday night's televised awards ceremony.
Source: Michael W. Smith Joins Music City Walk of Fame