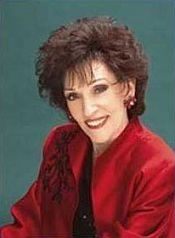 Being from Kentucky and growing up the majority of my life as a preacher's kid in a Southern Kentucky church, I'm pretty familiar with Southern Gospel music. One of the legends in this genre is Dottie Rambo.
Dottie was killed a few days ago while traveling in a bus on her way to a Mother's Day concert in Texas. The accident happened just east of Mount Vernon, MO.
Through the course of her career, the Dove and Grammy Award winner wrote more than 2,500 published songs, including the classics "He Looked Beyond My Fault and Saw My Need," "We Shall Behold Him," and "I Go to the Rock," which was recorded by Whitney Houston in the 1996 movie The Preacher's Wife. In 2006, Rambo was inducted into the Kentucky Music Hall of Fame and into the Nashville Songwriters Hall of Fame in 2007.
She will be greatly missed in the Christian music industry as well as the music industry in general. There have been several secular artists that have recorded Dottie's songs and or performed with her in her career: Elvis Presley, Dolly Parton, Johnny Cash and Barbara Mandrell to name a few.
Source: Nazarene Communications Network