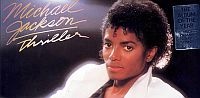 Just got an e-mail from Steve Counsel letting me know what he's been up to since the start of the year.
He's working on some tracks now that were recorded at West Lake Studios before Christmas with his band. This is the same studio where Michael Jackson's "Thriller" LP was recorded, but as Steve said he's looking for some hits to come out of this one and not zombies. Good call Steve!
Here shared a link with me of an extended mix of his "Deliverance Song". The mix really highlights his hard-hitting guitar talent and showcases it. The solo at the end is great!
Deliverance Song – Extended Mix