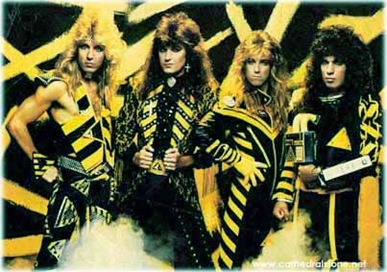 Remember Stryper? I'm sure you do if you've been following Christian music for more than a decade or two. They don't look like they do above anymore, but they will be performing again on Easter Sunday on VH1.
(NASHVILLE, TN)—March 20, 2008—On Easter Sunday, March 23rd, VH1 Classic and VH1 will air VH1 Classic Presents: Aftermath: The Station Fire Five Years Later, a one-hour special of concert highlights from the benefit concert that was held on February 25, 2008 at the Dunkin' Donuts Center in Providence, Rhode Island. The special will air simultaneously on both networks at 10:00 PM EST / PST.Emmy-nominated composer and musician Marc Bonilla served as music director for the benefit, which included performances by Stryper with Tom Scholz and Gary Phil of Boston, Tesla, John Rich, Gretchen Wilson, Staind's Aaron Lewis, Winger, Twisted Sister, Kevin Max, Carmine Appice's SLAM!, Eric Martin of Mr. Big, Danny Seraphine with CTA, Gary Hoey and others.
So, after the nice and clean Easter services are over in your church and all the ironed and pressed pastel colored shirts and dresses are put away, go dig out your black and yellow striped Spandex and rock-out to Stryper in the living room.