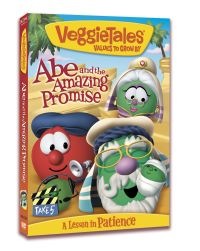 Okay, so it's not Christian music. I'll bet if you're like me though, you love VeggieTales too, so I figured I'd share a little about their newest DVD. Plus, with the last name of Bean, I've got to like anything that promotes funny vegetables!
"Abe and the Amazing Promise" is now available in stores and you can order it online at a variety of sites.
Bob the Tomato tries to bring the Bible story of Abraham and Sarah and their wait for a promised son to life, but when spitting camels and a film crew of zany French peas get involved, everyone's patience is tested! Will Bob pull everything together in time to teach a lesson? Whether they're waiting on a promise from God or cookies from mom, kids will learn that while being patient is never easy, the reward is always worth the wait!

The DVD also features the musical "misadventures" of Blunders in Boo-Boo-Ville where Jacques (Larry the Cucumber) attempts to invent a way to bring back the boo-boo birds and discovers that taking time to do things the right way is the best way!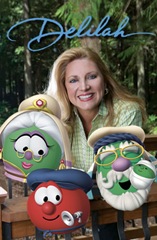 Also taking part in this episode is the popular radio show host, Delilah, playing the voice of Sarah.
As part of the promotion here are some great coloring sheets for your kids as well.
Oh, and of course there's the always hilarious Silly Song by Larry the Cucumber. In this episode, it's "Sneeze If You Have To".
The great episodes continue to roll out from the VeggieTales crew. DVD's that are as great to watch for your kids as they are entertaining for parents and older siblings alike. I honestly think VeggieTales and 3-2-1 Penguins, also from Big Idea, has been the greatest original and creative content to come out of faith-based programs in my lifetime.