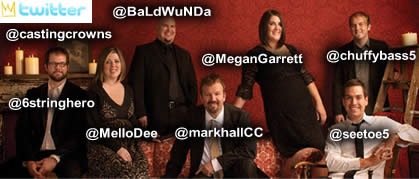 I'm a big fan of twitter so when I get the opportunity to connect with more Christian musicians and groups that are also on twitter I immediately follow them.
After receiving an email from Casting Crowns today that gave me all their twitter names it was like another Christmas in January.
All the members of Casting Crowns also do a great job of keeping us in touch with a variety of blogs they write as well.
Mark Hall, Melanie Hall, Casting Crowns Girls, Casting Crowns Guys, Casting Crowns Crew and Casting Crowns News Updates
Loads of information and plenty of opportunity to interact and get to know the group even closer.