I wanted to let you all know of an amazing service I came across recently that helps find cars at great prices for ministries and people in the ministry.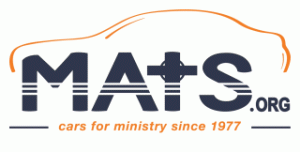 The name of the organization is MATS and their mission is to provide affordable and reliable transportation to ministries and their staff. They've been fulfilling this mission since 1977. They have been great to work with and I really can't explain what they do any better than what their website says.
Since 1977, MATS has assisted thousands of ministries and their staff in finding transportation, including but not limited to:

Mission organizations and their staff
Churches and their staff
Para-church ministries and their staff
Humanitarian organizations and their staff
Schools, Counselors, and Teachers
Colleges & Universities and their staff
Missionaries

Our Service

The staff at MATS has over 100 years of combined experience in the automobile business and a unique desire to serve those in Christian ministry and education. We are aware of how limited ministry resources can be and we want to help you be a better steward of those resources when purchasing a vehicle for your organization or family. Whether you are located in the United States or Internationally, MATS has the ability to provide the right vehicle for your needs at a significant cost savings from the retail market.
If you're in ministry and looking for a vehicle, or know a ministry that needs some help with transportation needs, give these folks a call and see what they can do for you. Visit their website at www.mats.org