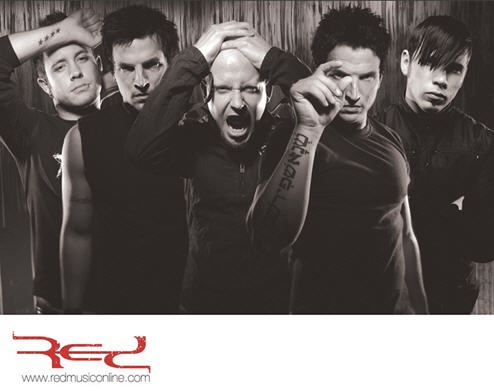 Derek over at Industrial Addiction just gave me a heads up about this band he stumbled across. The group is called "RED" and you can find out more from their website here or their street team, Red Nation MySpace page. From listening to the song he had originally heard "Already Over" and a couple of more from their website, the lyrics seem to clearly have a message of hope and salvation.
March 29, 2006 Red (Sony/BMG) will release its first nationally distributed project End of Silence on June 6. Red brings a unique blend of roiling guitars, epic string arrangements, strong melodies, and passionate vocals. The songs on "End of Silence" deconstruct struggles that listeners face, while painting a picture of redemption in the midst of brokenness. According to lead vocalist Mike Barnes, Red stands for: passion, pain, but ultimately, redemption.

The five-member band (Mike Barnes, lead vocals; Anthony Armstrong, guitar, BGV's; Randy Armstrong, bass, piano, BGV's; Jasen Rauch, guitar; and Hayden Lamb, drums) has been tirelessly developing the eleven-track album with grammy-nominated producer/songwriter Rob Graves over the past two years. End of Silence was mixed by Ben Grosse (Red Hot Chili Peppers, Fuel, Sixpence None the Richer).
Their music goes from a very, surreal ballad like rhythm to immediately kicking into the rockin' metal guitar overdrive. Some of their intros remind me of the sound of Evanescence without the angelic voice of their lead singer. Same feelings though when I'm listening to their music and that's a good thing.
Has anyone else heard of these guys? Visit their website and listen to some of their songs and let me know. I especially recommend "Already Over" along with Derek.