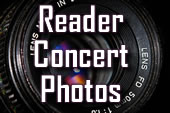 It's that time of year again. Christian music festivals like Ichthus are already underway with plenty more on the calendar. You're bound to grab some great photos from all those concerts you're attending and we'd love to see them.
Now you can easily share your fun photos, share that photo opp of you with your favorite Christian singer and group and share it with all your friends.
Just use our Reader Photos page to upload your concert photos and tell us a little about your experience.