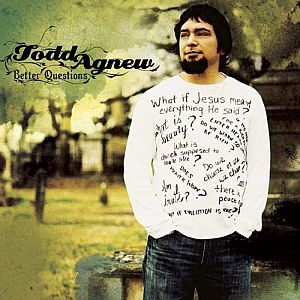 I received Todd Agnew's "Better Questions" in the mail a few days ago to listen to and review on the site. As per my normal operating procedure, I've been listening to it in my car and on the computer over the past few days and just letting the lyrics marinate into my soul.
It's not been a purely pleasant experience, but it's not because the album is bad, it's because the lyrics are piercing to what I've accepted as normal and expected.
For example, read these lyrics from the song "Least of These", which is probably the hardest rocking song on the album as well.
I'm a druggie, I'm a pusher, I'm a one night stand whore
Accuser, an abuser with nothing to live for
A devil, a deceiver and probably much more
But why does it have to define me?
Why do you always remind me?

Why can't I be free from who I've been?
Why can't you see me as one of the least of these?

I'm a liar, I'm a thief, I'm a traitor, I'm the chief of sinners
I'm pretty sure nothing's beneath me
I'm a cheater, I'm a chain, I don't know if I can change
But why does it have to define me?
If He came to this hell to find me?
Why can't His blood refine me?
Why do you always remind me?
I've bolded the lines that speak loudest to me. I think I've been doing a much better job of not being judgmental towards people. The question is, is the church doing the same? How do you do?
Getting back to the album, I'm thoroughly enjoying everything about the album and the rest of the songs that are included.
Prelude
Still Has A Hold
Least of These
If You Wanted Me
Our Great God
Loves In Our Heads
Peace On Earth
Funny
Don't Say A Word
War Inside
Martyr's Song
On A Corner In Memphis
Family
Preachers And Thieves
Can I Be With You
The songs bolded above are some of my favorites from the album, but I can't really say they're my favorites I guess. Every time I listen to the album I just let the whole thing play and enjoy the entire album as a complete story.
I don't have the space or time to clip all the great little phrase lyrics in this album, you've just got to buy the album and hear it for yourself.
As I was listening with a friend, they made the comment immediately that it didn't "sound like" other Christian music. I think that's a good thing, without saying that Christian music is bad, we just need artists that can really push the envelope of what we expect and what we think we know. Todd Agnew does that!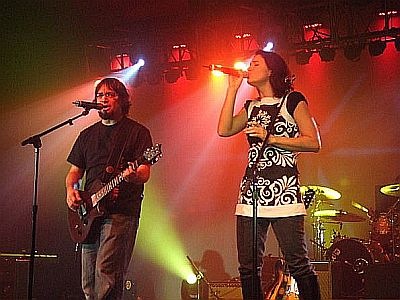 The photo above is of Todd Agnew and Rebecca St. James performing at GMA 2007. Rebecca St. James is a guest vocalist on this album on "Our Great God".
Lyrics: SweetsLyrics
Photo: Ardent Music blog
Website: www.toddagnew.com