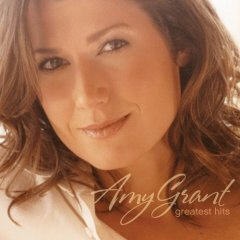 One of the mainstays of Christian Music, Amy Grant has been singing hits since day one. A new album is now available of her greatest hits and you can order it now online.
During her award-winning 30-year music career, Amy Grant has sold more than 30 million albums around the world. On October 2 (October 1 outside of North America), Amy Grant's first-ever career and label-spanning hits collection, Greatest Hits, will be released around the world in CD and Special Edition CD/DVD packages and digitally. In the U.S., the new title will be released by Sparrow/EMI America Records.

Amy Grant: Greatest Hits features 19 tracks culled from all of Grant's studio albums, including nine #1 and nine Top 5 Pop and Contemporary Christian chart hits. The Special Edition's DVD adds more than an hour of exclusive content, including a new 40-minute interview with Grant about her career, a rare acoustic performance (audio), five music videos, a photo gallery, a bonus ringtune and a complementary three-month trial membership to the official FOA (Friends Of Amy) Fan Club.
Listen to streaming audio of "Baby Baby" here
Listen to streaming audio of "El Shaddai" here
Amy's official website can be found at www.amygrant.com
Continue reading to get a track listing with their place on the charts during release
Simple Things – Top 10-CCM (#23 AC)
Takes A Little Time – Top 5 (#4 AC)
Lucky One – Top 5 (#2 AC, #18 Hot 100, #16 Top 40)
House of Love – Top 5 (#5 AC, #37 Hot 100)
Baby Baby – #1 AC, #1 Hot 100, #23 Dance
Every Heartbeat – Top 5 (#2 AC, #2 Hot 100)
That's What Love Is For – #1 AC, #7 Hot 100
Good For Me – Top 5 (#4 AC, #8 Hot 100)
I Will Remember You – Top 5 (#2 AC, #20 Hot 100)
Lead Me On – #1-CCM (#96 Hot 100)
Saved By Love – #1-CCM
Stay For Awhile – #1-CCM (#18 AC)
Find A Way – #1-CCM (#7 AC, #29 Hot 100)
Thy Word – Top 5-CCM
Angels – #1-CCM
El Shaddai – #1-CCM
In A Little While – Top 5-CCM
Father's Eyes – #1-CCM
Old Man's Rubble – Top 5-CCM