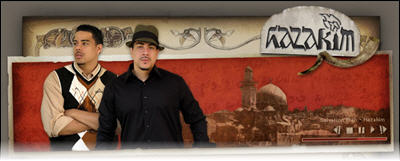 A reader e-mailed me recently and let me know about a hip-hop group named Hazakim. I visited their site and listed to a couple of their tracks and really like their sound. I also believe they have a wide-open area of ministry in this genre of music.
Founded in 1997, Hazakim (Hebrew for "strong ones") consists of emcees/producers, Michael and Anthony, who also happen to be blood brothers. Due to an upbringing in the Messianic Jewish movement, as well as their multicultural roots which include Jewish ancestry, their sound possesses a trademark Hebrew influence which sets them apart from other hip-hop artists. By applying as their motto the charge of Rav Sha'ul (Paul) in II Timothy 4:2, "preach the Word, be urgent in season and out of season; convince, rebuke, and exhort – be unfailing in patience and in teaching",
Of particular interest was a video they put together with one of their songs and clips from Mel Gibson's "The Passion of the Christ". Really great video! I'd really recommend listening and seeing it. This genre specifically isn't in my list of preferred's, but I believe what these two guys are producing is  some quality music and the investment they put into the lyrics comes out loud and clear.