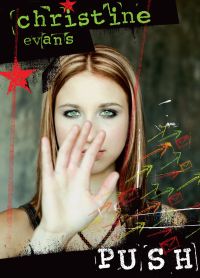 Awhile back I received a couple of Christine Evans CD's to listen to and review on this site. Regretfully, it's taken far too long for me to get my thoughts down in pixels so everyone could see them. She's an up-and-coming Canadian artist/songwriter just coming off a Canadian tour.
One of the things I want to do as I begin to review more and more albums is to give people an idea of the secular artists I think their style and tone mirrors to some degree. For Christine Evans, she reminds me Avril Lavigne, I'm not sure if this is intentional or not, but she reminds me of her visually as well. Her overall sound and energy also reminds me of Natalie Merchant, and the lead singer for The Cranberries, can't think of her name right now.
After listening to Christine's "Push" album, you can see the video here if you'd like, I think she's very talented for how young she is. Her skill in singing and music and writing is very impressive. I will say her "boyfriend" in the video needs to be smacked for making her push while he steers the car.
"Push" has 12 tracks and one of my favorite is the title track, but running closely behind are "Give It Up", "Show Me The Way", "Now I Sing" and "On and On". You can listen to her album on her website music page.
She's doing everything she needs to get out there, we just need to get her music into more people's ears and have them spreading

the word. If you're looking for some new music for your iPod or Zune, put some of Christine's tracks on there and I'm sure you won't be disappointed.
I've got an exclusive interview coming up with Christine soon and that will let you get to know her a little more so stay tuned to Christian Music Fan for more details.
Christine is very active with Kids Help Phone, so I want to be sure and give you a link to their ministry website too.