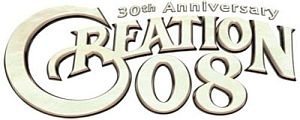 It must have been Creation '95 that I went to but never saw a single concert. I was schedule to help with the setup and tear down of the event grounds. For the first time in my life though I experienced something along the lines of "homesickness", except I wasn't sick for home. The challenge was that I was in the middle of a great event with not a single friend to share it with. I ended up leaving early, before the concert even started and drove across the country to Kansas City to surprise visit a friend from college.
Nothing related to my experience, the Creation festival, the Christian Woodstock event is what I call it, is preparing for their 30th anniversary this year. They're celebrating by having yet another star-packed line-up for this year's stages.
This year's main stage line-up includes performances from a diverse array of artists such as Switchfoot, Newsboys, TobyMac, Jeremy Camp, Kutless, David Crowder Band, Skillet, Barlow Girl, Chris Tomlin, Paul Baloche, Hawk Nelson, Leeland, industry veteran Phil Keaggy and new artists Fee, Worth Dying For and The Washington Projects. Speakers include author Justin Lookadoo, Bob Lenz, Teen Mania Ministries founder Ron Luce, David Nasser and Jose Zayes.

The Tooth and Nail Records sponsored "X2008 Fringe Stage" will feature the best the in alternative Christian artists, including Superchic[k], Pillar, Sanctus Real, Stellar Kart, Red, Future of Forestry, The Afters, Ruth, Fireflight and 2007 "MTV2 Dew Circuit Breakout" winner The Myriad.

After the lights go down on the main stage, the entertainment continues at the Late Night Café. Wednesday night features comedian Paul Aldrich and critically acclaimed poet, Bradley Hathaway taking the stage on Thursday. A special event for Friday night will be announced soon.
I've got friends that would really enjoy going to this, but with everything else I've got planned that I'm trying to make happen this year, I don't know if I'll be able to make it to one of the Creation festivals. I'm hoping to visit one of the more local festivals around Indianapolis or in Illinois.
Creation Fest Gears Up To Mark 30th Anniversary CCM Readers' Choice Favorite Festival Winner – CCMmagazine.com