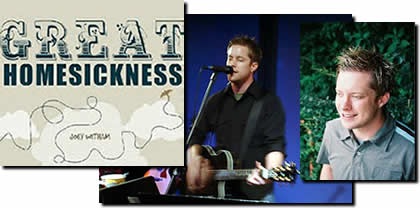 I've been listening to Joey Witham's "Great Homesickness" CD now for a number of months. I've been meaning to get a review up but I keep listening to it over and over trying to think of more great things to say about it.
The problem is the music just speaks for itself. He's got a great talent for leading you through his lyrics and tying you into the music through the entire journey.
He reminds me a little bit of Mat Kearney and maybe a little Chris Daughtry on his rocking songs.
The "Great Homesickness" album is a collection of eights tracks that combine some very mellow chords in "Speaks Aloud" to the more upbeat and contemporary "Call Out" and "Spirit Bound".
I've got to say that "Speaks Aloud" is probably my favorite song on the entire album. I'm going to play it for our worship leader and see if we could add it into our worships sets coming up…."let the whole world sing…".
The full track listing on the album includes:
Lose Control
Send Your Glory
Coldplay and Stars
Face of Grace
Speaks Aloud
Call Out
Spirit Bound
Great Homesickness
If you'd like to get your hands on a great album from a new up and coming artist, give Joey Witham a shot with this "Great Homesickness" album. I don't think you'll be surprised by how much you find yourself coming back to it over and over again in your rotation of albums and playlists as the days roll on.
Visit the Joey Witham Official website or his MySpace page.