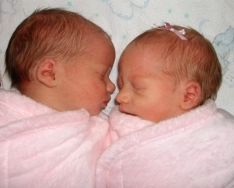 Natalie Grant and her husband welcome two, new, beautiful little girls to the world two days after Valentine's Day.
Grace Ana: 4lbs. 3oz arrived at 7:44am
Isabella Noelle: 5lbs. 9oz arrived at 7:45am
Isabella, I'm afraid to tell you that Grace is going to be milking that single minute for all it's worth for the rest of your life, but I say you're response should always be "Good things come to those who wait." 
Hat tip to Gayla McCord for finding this bit of information on the Celebrity Baby Blog.