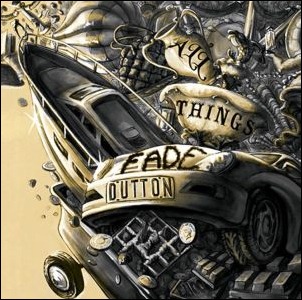 There are those Christian bands which facilitate worship that's accessible to generations of worshipers at once. And there are those which venture to the cutting edge of popular music in the areas of style and creativity. But few bands combine sincerity, sing-ability and musical chops like Dutton.
The worship band known as Dutton has been playing together since early 2004 when front man Logan Walter pieced together a group to play with him at University Baptist Church (located on Dutton Avenue in Waco, Texas). UBC, founded in the mid-1990s by David Crowder and a collection of forward-thinking 20-somethings, needed a steady back-up band when the ascending David Crowder Band hit the road on national tours. But UBC got more than a "B-team" when Walter, guitarists Brian Patterson and Shane Wilson, and drummer Nathan Jennings gelled together as Dutton.
By the summer of 2005, Dutton's reputation as a band that delivered a true worship experience with rock n' roll punch had spread, and the boys' calendar began to fill up with camps, retreats and discipleship weekends. In March 2007, The Heights Baptist Church in Richardson, Texas scooped up UBC's "back-up band" to lead worship on Sunday mornings for their contemporary service. That led to a permanent partnership as Dutton has now become the regular worship band at The Heights. That is, when Dutton's touring schedule "dutton" interfere (pun intended). The boys' are currently playing conferences, church events and concerts across the nation.
What started as a collection of collegians with a shared love for God and music has developed into a full-time band of passionate worshipers who pour themselves into original songs designed specifically for the corporate worship setting. Walter, Jennings, Patterson and Wilson, along with new bassist Josh Hicks, bring a worship experience that is spiritually uplifting and sonically pleasing. Off stage, they're as easy-going and fun-loving as any band in any genre. On stage, there's no mistaking their commitment to the overall worship experience.
Simply put: This band "dutton" disappoint.
For more info about Dutton and to hear songs from their latest album "All Things Fade," check out www.duttonband.com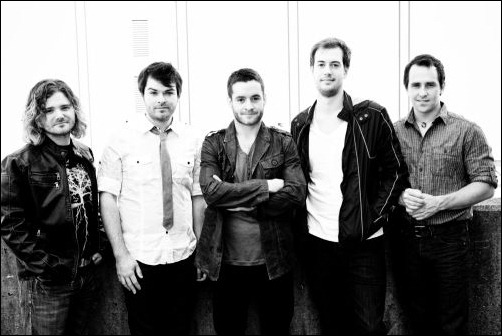 (Left to Right) Shane Wilson, Brian Patterson, Logan Walter, Josh Hicks and Nathan Jennings make up the worship band known as Dutton.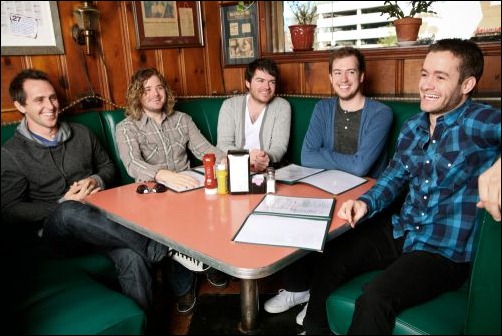 (Left to Right) Nathan Jennings, Shane Wilson, Brian Patterson, Josh Hicks and Logan Walter