My coworker received this letter from a family member that now lives in New York City. I thought the photo and message were very poignant for today. It's hard to tell in the image, but the picture hanging on the fence is a black and white photograph from the same spot prior to 9/11. I hope you don't mind me sharing this with you on this blog and my others.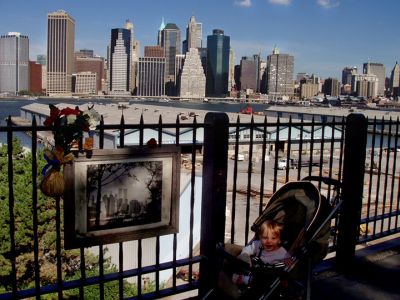 The weather is gorgeous today in New York City. It's a brisk 61 degrees, there is a strong breeze blowing, and the sky is a piercing blue. It's the kind of weather and the kind of day I've heard New Yorkers say reminds them of 911. Today is a double whammy of sense memory recall, as today is 911 five years later.

Livi and I like to take our morning stroll along the Brooklyn Heights Promenade. This is a waterfront walkway which hangs over the Brooklyn-Queens Expressway and overlooks New York Harbor, the Statue of Liberty and beautiful downtown Manhattan. We sometimes take coffee, a bagel, and a juice bottle and sit with the other moms, nannies, and stroller-fulls of kiddies, and take in the amazing hustle and bustle of this city's fantastic port. The Queen Mary II sits along Brooklyn's waterfront boarding passengers going down South for a tropical cruise, while the cargo ships line up in the mouth of the harbor waiting for their turns at the docks along Manhattan's Hudson River side.

Today, however, in addition to the moms and nannies, kids and dogs, runners and tourists, are the business men and women. This morning, there are people in suits walking along the Promenade on their way to work in the City. They have come to pay their respects. Some of them walk slowly along staring out across the East River at the hole in the skyline where the World Trade Center's Twin Towers once stood. Some of them sit on benches with their eyes closed and their heads bowed as if in prayer. Some of them just stare with sadness in their eyes.

There is a spattering of fresh flowers along the Promenade today. Some have notes attached with wishes of love and rememberance to those lost. It reminds me of when 911 was still recent, when the pile still burned, and missing posters, notes, flowers, and mementos were clustered by the thousands all over Manhattan, but especially at Ground Zero.

This morning Mayor Bloomberg spoke of those days after 911. Everyone thought the economy would crash, and that people would move out of New York in droves. He said that the opposite has happened. New York's economy is strong, and more people have moved into New York City than moved out. David and I, of course, are two of those people who now call New York City home. We've come to love this city, and are continuously inspired by the people who live here, both as natives and transplants. New Yorkers are sad today. They smile and say hi, but with sadness in their eyes. There is a solemnity in the air, a courtesy, and a compassion for each other. Life goes on here. Babies must be fed, changed, and put down for their naps. Dogs must be walked, deliveries made, children schooled. Houses must be built, clothes must be washed, food ate, hair brushed. Work must be done. These are life's tasks. Tasks that get us through hard times, painful episodes, and unforseen tragedy. These are the tasks that helped New Yorkers get through the day-to-day of post 911 days, months, and years. These are the tasks that still help them today.

As I peer out from our new safe haven of Brooklyn across the East River, with the Brooklyn-Queens Expressway a stand-still of bumper-to-bumper traffic, cars and buses rush up and down the FDR in Manhattan. Water taxis and shuttles zoom to and fro in the East River, and the Staten Island Ferry pushes back on it's way across the New York Harbor. The sky is so clear I can see planes landing and taking off of Newark International Airport in New Jersey clear on the other side of the harbor. A news helicopter circles the sky, no doubt recording the Memorial that goes on at Ground Zero below. Life goes on here. It goes on in Washington, DC. It goes on in the houses of the families affected by the crash of Flight 93.

My hat goes off to the people of this city. I am proud of them. I am proud of our fire fighters and our police officers of the NYPD and Port Authority. New York City is still the greatest city in the world. I am proud to call it home.

We love you all,

David, Nicci, and Olivia
Thank you for sharing Nicci!