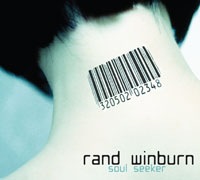 I first wrote about hearing Rand Winburn's "Soul Seeker" album early last month. I ended up connecting with him via his MySpace page and he offered to send me a copy of Soul Seeker to review and share with everyone here.
I've been listening to it for a few weeks now and just letting the music and lyrics soak into my consciousness and emotions.
I absolutely stand by my initial impressions and review of the songs on the album I was able to hear from his website and MySpace page. If you reminisce about the electro-pop-synth sounds of the 80's then the musical aspect of this album is great!
The lyrics are so simple and profound at the same time that they just get stuck in your head. Having words like this bouncing around in your head can be just what is needed when your attitude isn't quite what you'd prefer for the day.
Here's a section from the song "Love Flow":
But don't give up
Take it to the Lord
Lay it as His feet
Get down upon your knees
And prepare to weep
Open up your heart
Tell Him of your woe
Take a little time
And His love will flow
The rest of the album has more songs and lyrical phrasing just like that. Poetry of Truth and encouragement that just lifts your spirits and gives you hope.
The rest of the tracks on the album include:
God I Know (Link to Music Video)
Devil's Playground
Love Flow
Forever
Meet My Jesus
Save Me
Alone
Jesus, Did You Really?
Soul Seeker
Fool That I Am
River Runs Red
River Runs Red (edited)
If there's one weakness in the album at all, it's both the simplicity and power of the lyrics. That sounds weird to say, but sometimes the repetition of the same line or lyric is a bit too noticeable. Even with that though, I go back to the Truth of what's being said in the words of Rand in each song. They're words of hope and joy, and with the world we live in today, you really can't get too much of that now can we?
I highly recommend this album to add to your collection. I don't think you'll find another similar album in your collection and you definitely won't hear it while perusing the normal popular Christian radio stations.
Visit Rand's website and MySpace page and help an independent artist out and speak to him to keep doing what he's doing by supporting his work. Just visited his website again and he's got so more sample music available to listen to that's not available on his "Soul Seeker" album.
Technorati Tags: Rand Winburn, Corgi Boy Records, Soul Seeker, 80's synth music, electric pop, Love Flow