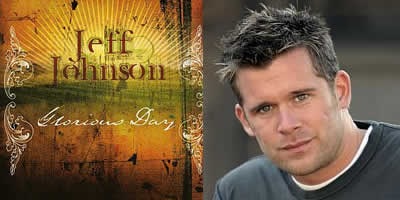 One of the albums I've been listening to for a number of weeks now is Jeff Johnson's "Glorious Day" album. This is Jeff's 3rd album. He first released "Shaken" in 2003 and "Enter In" in 2005.
If you're an American Idol fan, you may recognize Jeff's face and name. If I've got my timing right, he was a contestant during Season 4, with Carrie Underwood being the final winner. This article on Crosswalk.com talks a little about Jeff's experience on the show and I love his response to the situation:
One of the celebrity judges, Gene Simmons from the secular rock group Kiss, subsequently suggested that Johnson sing country music instead of pop music – so the lyrics would not conflict with his beliefs.

Johnson said it was interesting that Simmons "was trying to give me spiritual advice, about not singing pop music." But, he said, "I believe we're supposed to be in the world and not of the world. I believe that I could sing pop music or country music and still live a life that's a witness for Christ."
Read more of my review after the jump
Getting back to his album "Glorious Day", it's a great CD and he's got some talent that just fell among the rocky soil for American Idol. Jeff is a full-time worship leader in Grapevine, TX and many of his songs have a worship and praise feeling and lifting to them.
Here's the track listing from the album:
God Over Us
Ruin Me
Glorious Day
Jesus Is Mine
Glory To Your Name
Old Rugged Cross (breathing new life and lyrics into an old favorite!)
So High
He Rose
I'm Movin' On (possibly my favorite song from the album. A great moving, soul-searching ballad)
Home
The album is well produced. Sometimes a challenge for artists not signed with major labels, but Jeff had some help from some veterans in the industry. The album was mixed by Tom Laune (prior credits include Jeremy Camp, Michael W. Smith, Nichole Nordeman) and was produced by Will Hunt.
To hear some of Jeff's music yourself, visit his website (www.jeffjohnsonband.org) or his MySpace site (www.myspace.com/jeffjohnsonmusic).
I'm sure we'll be hearing more from Jeff in the future. We wish him the best.
Source: Nixed from 'American Idol', Worship Leader Sees Plan