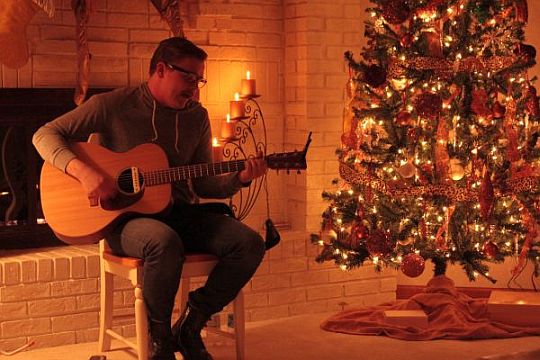 This past week I had the opportunity to listen to Jeremy Spring, of Abandon Kansas, perform at a friend's house during his Living Room Tour 3 concert path.
I wasn't familiar with Jeremy or Abandon Kansas up to this point. After finding out that I was going to the concert, my son looked them up on iTunes and let me listen to some of their songs. Although hard to get a real idea of what they sounded liked as I listened to my son's iPod while standing in line at Moe's Southwest Grill, what I did think was that I liked what I had heard so far.
My friends have hosted a number of these concerts in the area but this is the first one I've attended. You can't get much more of an intimate experience with your favorite artist or group than with this type of event. I found out from our host, Rob and Jane, that these concerts take place all of the country a lot more frequently than I would probably expect, but digging into that is probably better suited for another post all-to-itself.
So, let's focus on Jeremy Spring and Abandon Kansas.
For this concert it was just Jeremy and it was an all acoustic set, something I really enjoy. For me, it doesn't really matter what genre of music I'm listening to, if there are lyrics and I can't understand them, I'm not enjoying your music. Lyrics are very important to me and I think they should be heard and legible.
Jeremy weaves his lyrics like a mighty poet. The themes are fairly simple, but the meaning and emotion behind each of the songs really comes out. I think hearing these in an acoustic format first, and in the intimate settings of the living room, really connects the audience with the music and lyrics. What was really nice about this experience as well is that Jeremy shared more of the meaning and motivation behind the words he incorporated into each of these songs.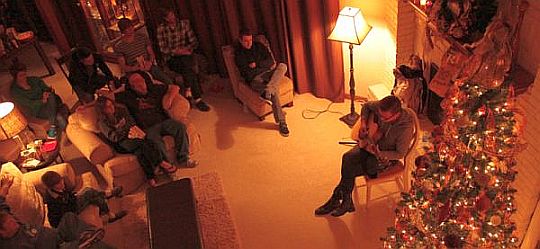 You can get a little bit of a feel for what the concert was like from the photos and the playlist of videos I put together from four of his songs he performed. You can also still catch him in the next few stops as he wraps up The Living Room Tour 3.
If like me you've really enjoyed what you've heard, be sure and touch base with Jeremy and the rest of the group by finding them online and letting us all know what you think.
Catch Abandon Kansas and the rest of these guys online in all the cool places!