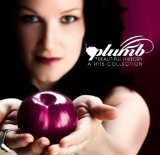 One of the Christian groups and vocalists I've loved listening to ever since I heard of them was the group Plumb, with Tiffany Arbuckle singing lead vocals.
They've released a new 2-disc album titled "Beautiful History: A Hits Collection"
Even though the album is a collection of their hits, which honestly would just be a copy of every one of their albums to do date, there are some new tracks like "Hang On". Even you're a member of the Hear It First email newsletter you can download "Hang On" for free from their website.
Here are the other songs on the first disc of the album:
Stranded
Here With Me
Damaged (Redemption Extended Version)
God-Shaped Hole
Real
I Can't Do This
Cut
Better
Blush (Only You)
In My Arms (Radio Edit)
Hang On
Beautiful History
Disc Two
In My Arms (Bimbo Jones Radio Edit)
Cut (Bronleewe & Bose Radio Edit)
Hang On (Digital Dog Radio Edit)
Always (jRyann Radio Edit)
In My Arms (Bronleewe & Bose Extended Mix)
Cut (Digital Dog Extended Mix)
Hang On (Dave Aude Extended Mix)
Always (Bimbo Jones Extended Mix)
If you're not familiar with Tiffany Arbuckle's, her angelic voice or the sound of Plumb together, you really owe it to yourself to check them out. This could be a great album to introduce you to the music of Plumb.
If you like Alanis Morissette, Kate Voegele, Jonatha Brooke, Sarah McLachlan, Superchic, Evanescence, you'll probably love Plumb.