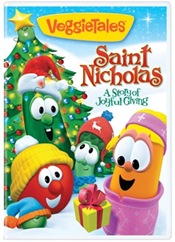 There's a new VeggieTales DVD that's on the market now and this one is a new Christmas story titled "Saint Nicholas: A Story of Joyful Giving".
Featuring all-stars Bob the Tomato and Larry the Cucumber, this new seasonal DVD tells the story of Saint Nicholas, the world's greatest giver, and introduces Nicky the Pepper, the first new VeggieTales character in five years. Bonus features include an original new song by critically acclaimed singer-songwriter Matthew West, "Give This Christmas Away," performed by West and Grammy Award-winning artist Amy Grant.
"VeggieTales Christmas releases are fan-favorites and Saint Nicholas is sure to become an evergreen title," said Greg Fritz, SVP of Sales and Marketing at Big Idea. "A national cross-promotion with Operation Christmas Child and extensive radio play of the featured song by Matthew West with Amy Grant will build great awareness of the timely message of giving."
For the family, here's a Christmas cookie recipe from VeggieTales and a coloring sheet for the kids to enjoy.
I love VeggieTales, it's always good to see them continuing to release more videos and family friendly entertainment to the market.