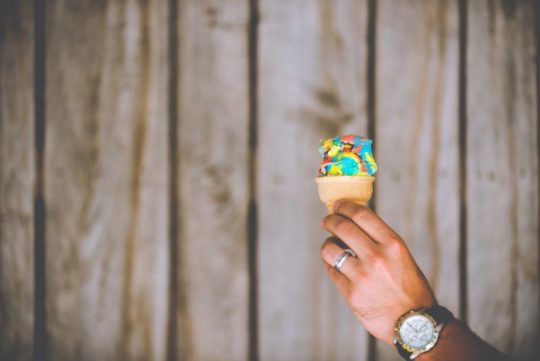 Whenever Keri and I are asked for parenting advice, I've always responded with the same statement, "Let them eat ice cream and buy good laundry detergent." Here's what I mean…
There will be times when life seems overwhelming. No question. But in those moments, try to picture kids eating ice cream…they haven't a care in the world. And because they are care free, there is undoubtedly sticky goodness running down their hands and onto their clothes. Here's the deal. Let it happen. It's fine.Throw it in the washer with confidence. Nothing so trivial is worth losing your mind over.
Last night Emmett, who we were told wouldn't walk, climbed onto the dining room table and started dancing. We've made a practice to have fun at dinner. This mentality started when our oldest, Bailee, was a toddler. She spilled her milk cup all over the table and immediately began crying. After a long and arduous process of trying to calm her down, I chose to seize the moment and made a parenting decision that would follow us all the way to last night's dancing session. I pushed my entire plastic cup of water over, covering the table and cascading onto the carpet of our dining room. Bailee immediately looked at me and knew that it wasn't an issue for me; her tears turned to laughter. Pretty good, right? That spilled milk wasn't worth crying over. Literally.
I think this applies to everyone. Whether you have kids or not, eat ice cream and buy good laundry detergent. Life is too short to worry about things that you cannot control. You can eat ice cream and when life gets messy, you won't worry because you have good laundry detergent.
So I suppose today, in addition to giving you permission to eat ice cream, I'm saying live and love fully…without restraint or fear. When the ice cream drips down on your clothes, rest assured in the goodness of your detergent. Choose to live according to your faith; a faith that does not measure itself against a mistake or misstep. God's grace is with you. Everything's going to be fine.
Matt
Delight yourself in the Lord, and he will give you the desires of your heart. Psalm 37:4 (ESV)
Matt Hastings lives with his wife Keri and their five children in Tullahoma, Tennessee. He is the pastor of the Estill Springs Church of the Nazarene. [Editor's Note: Matt has graciously allowed us to republish his weekly email devotionals on our site for our readers.]