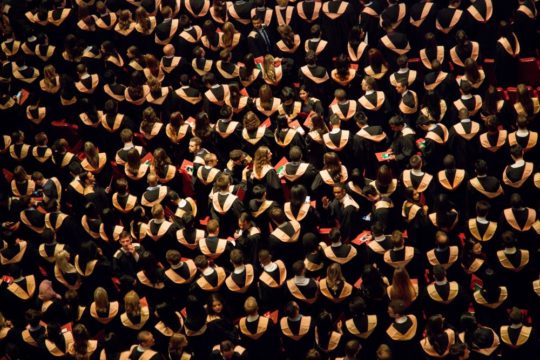 Spring is in the air and that means bbq grilling, outside parties and field day at school. By the way, field day is code for "there's nothing left to do in the classroom so let's take them outside so we don't strangle them". It's an excuse to have a party outside!
Another party I enjoy is graduation. It's not so much the formality of the commencement (although that's pretty neat), but it's the end. I like seeing the graduates walk across the stage, receive their diplomas and then see their supporters lose their minds rejoicing. As each person walks and greets the school principal or the president of the college, each family and friend represents their graduate with shouts and claps. You know, you can tell a lot about a family and the graduate in that moment when their name is called. Some are dignified, giving the quiet golf clap as their graduate strides across the rickety stage. Then there's the family that downloads the air horn app and uses it often!
My path to education was, shall we say, interesting. I was a high school drop out. My GED got me accepted to college on "academic probation". When I did graduate college (I squeezed 4 years into 5), I walked across the stage with our 1 year old daughter. My family was rather obnoxious and loud. Yep, we were "those people". But I know why. I had walked a hard road. In their minds, I had defied the odds and silenced the critics with my achievement. By the time I received my master's degree, well, let's just say it got pretty crazy. It was quite a party. My church, my family and my friends all celebrated with me. Quite loudly. It made me realize that celebration is a gift to be shared.
You know, partying was God's idea. It's not new. The world has made it into something else, but it was God who created, celebrated and rested. Maybe you've forgotten. Maybe you need to be reminded that you have a lot to celebrate today.
You are breathing air.
You ate food today.
You have people that love you.
You are uniquely gifted.
You are reading this.
God loves you.
So, how can you share in celebration today? Choose to rejoice with others and realize that it's a gift best done in community.
Celebrating with you today,
Matt
'May the God of hope fill you with all joy and peace as you trust in Him, so that you may overflow with hope by the power of the Holy Spirit.'
– Romans 15:13
Matt Hastings lives with his wife Keri and their five children in Tullahoma, Tennessee. He is the pastor of the Estill Springs Church of the Nazarene. [Editor's Note: Matt has graciously allowed us to republish his weekly email devotionals on our site for our readers.]