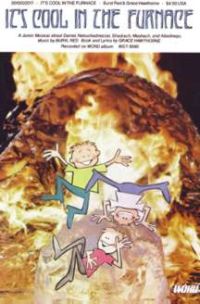 Not sure why, but today my boss and I are listening to a Christmas Story cassette for Jungle Jam and Friends. His daughter loves it so we decided to pop it in and work through some Adultitus.
Listening to it though brought back memories of my favorite kids story album I listened to as a child. It was called "It's Cool in the Furnace". To tell you how long ago it was that I was a child, I listed to it ALL THE TIME on 8-track. I'd ask for it to be played in the car on the way to church, or I'd pop it into the family cabinet stereo in the living room. If I was banished to my room, I'd play it on a little, red, portable 8-track boom box type thing.
I'd love to find this on CD and give it to my kids for Christmas. I'm having problems finding it though in CD format. I've found a number of musical resources and a cassette, but nothing on CD.
Does anyone know if this exists? Do you remember it? Did you listen to it as a child?