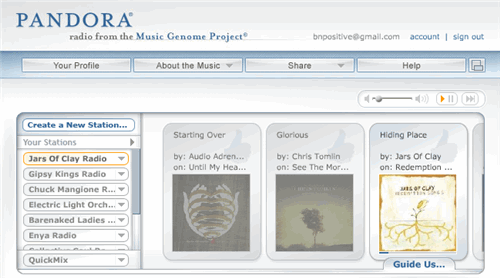 I received an e-mail earlier this week letting me know that Pandora now has Christian music and artists in their online catalog.
OAKLAND, Calif. –February 13, 2007 – Today Pandora announced the addition of Contemporary Christian Music (CCM) to its personalized radio service. The new Christian music collection of songs will include more than 300 popular Christian music artists—ranging from Michael W. Smith to Delirious? to Jars of Clay—and thousands of songs analyzed as part of Pandora's Music Genome Project. The addition of Christian music further expands Pandora's music catalog and allows listeners to tailor their stations with an even wider variety of diverse music choices.

The new Christian music catalogue will include comprehensive coverage of the last 50 years of Christian music charts alongside an equal number of songs from lesser-known, and independent Christian artists.

The addition of CCM will give listeners the option to play only Christian music, or to add Christian artists to their current stations. A station created with a Christian artist or song will play songs that share the same musical qualities and Christian association.

Pandora's Music Genome Project is an exhaustive database of recordings analyzed by highly trained musicians, one at a time, using close to 400 musical traits. This richly detailed musical taxonomy, including every detail of melody, harmony, instrumentation, rhythm, vocals, lyrics and more, enables listeners to easily create stations based on the musical style of favorite artists or songs. To start a Christian music station, listeners need only enter the name of a Christian artist and within seconds a station is created that plays music by that artist along with similar music by other Christian artists. Thumbs up and down allow listeners to further fine tune the station to accommodate their tastes.

"Contemporary Christian music is a very popular genre and our decision to add this music comes in direct response to numerous requests from Pandora listeners," said Tim Westergren, Founder of Pandora. "This addition to our catalogue furthers our goal of providing a truly personalized experience for every listener across the entire musical spectrum. We hope this passionate fan base will enjoy discovering new artists as well as hearing the music they already know and love."

Over the coming months Pandora will continue to add additional Christian artists and plans to bring the collection up to more than 20,000 songs within the next few months.
And they're adding 20,000 songs in the coming months. Awesome! It's going to be quite a catalog when everything continues to progress and develop.
Here's a little bit about Pandora if you're not familiar.
Pandora (www.pandora.com) is a personalized radio service, available anytime and anywhere on the PC, in the home and on mobile devices. Pandora is based on the Music Genome Project, which began in 2000 and is the most thorough analysis of popular music ever undertaken. Each song in this massive collection, which includes Pop, Rock, Jazz, Electronica, Hip Hop, Country, Blues, R&B, Latin and Classical, is analyzed by one of more than 50 trained musicians, and assessed against up to 400 distinct musical attributes (encompassing melody, harmony, rhythm, etc.) to capture its unique musical identity. Pandora uses this information to build playlists based on musical similarity. By simply entering a favorite song or artist, a listener is instantly launched into a personalized listening experience, full of new discovery as Pandora explores their favorite part of the music universe. Listeners can create up to 100 of these personal radio stations and refine them by providing feedback via the Pandora radio tuner. Additionally, listeners can create profiles, search for other listeners in the Pandora community who have similar musical tastes, and find stations built by other listeners, using artist and song names as well as genre and mood search terms. The music analyst team works daily to keep the Music Genome Project updated with the latest releases, emerging artists, and an ever-deepening collection of catalogue titles.
Pandora is probably the best online music service on the planet! It's definitely the best online streaming service I've seen that's free. Their only downside is you can't really just call up a single song and play it whenever you like as you can on some other services. Yahoo Music Engine is probably the best pay service in my opinion, but rumor has it's going away as well.
All of that regardless, Pandora now offers Christian music, which is pretty sweet!
My only question now is why there's not a Christian music genre available in their genre options.