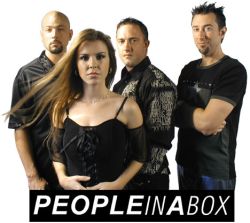 I think it's about time to spotlight another emerging and independent group trying to make it in the world of Christian music don't you?
People in a Box is a group that focuses on and specializes in dance/club music with a Christian message.
Band front man and good friend of mine, Kurt Kirton, says it best:
"It's almost a subculture because of its connection to the rave scene," Kirton comments. "Dance/club is the predominant form of music in Europe and is embraced by so many countries due largely to the fact that its versatile appeal brings people together." A hardcore fan of the burgeoning genre, Kirton recorded and produced his first dance song in 1997. About the same time, he formed the group People in a Box, named after an 80s song performed by Farrell and Farrell, early pioneers of the electronica movement.
Like any self-respecting musical group today, you can find out more about them on their MySpace page as well as hearing clips of their songs. There's always their own website for more information and pictures as well.