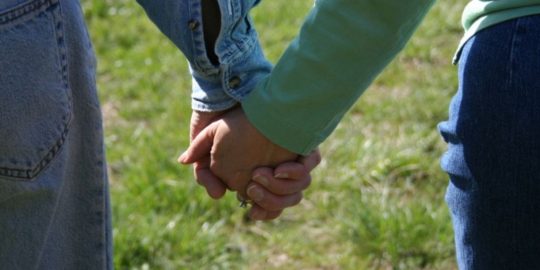 The opinions expressed are that of the writer and may not reflect your own personal feelings regarding content. Reader discretion is advised.
Valentine's Day is one that I've never really gotten. Don't get me wrong, when I met my wife we even attended a college sponsored banquet. The "Butterfly Kisses" guy was there…pre "Butterfly" fame. Look, I like any excuse for people to express their love for each other but it tends to be, at least for me, an odd holiday. As my kids get older, I try to tell them things that I hope they'll remember – sayings, quips and nuggets of wisdom that I'm sure I gleaned from my parents. Today, I sent this to my kids…none of which are connected to anyone classified as a boy or girl "friend".
"To my Valentines: I hope you know that no matter who comes into your lives, I'll always be your daddy & I've loved you from the start. I'm very proud of you. Don't measure yourselves on this day. It's innocuous. It's just a Tuesday. Real love happens during the mundane, ordinary days. You are my favorites. I like you."
Then, when I left for the day, I kissed their mother while she changed our two year old's stinky diaper. That's love. The decision to serve each other in the valleys and the peaks. The mark of love is not romance or harmony or even physical attraction. The key to a successful love life, whether it be a friend or a spouse, is faithfulness. I choose to like the people around me. Love is a biblical command but liking someone…well, that's a choice.
Here's the truth…painful as it may be. You cannot love anyone else properly unless you first love God. Accept this love and then you can be the restored, whole creation He desires you to be! As you receive His love, then you can go to the next priority. If you'd like to know what I have seen work over the last 43 years it's this:
God is at the center of my life (I would not relegate Him to a list)
My wife is first.
My kids are next.
My extended family comes after.
My neighbor follows (friends, church, strangers, etc.)
This love that seems ever elusive is based on the Hollywood romances that are played out on the screen. That's a farce. Real love is in serving, sharing and submitting. Giving up ourselves or the sense of one's self – so that others can live fully – is love.
Before you unsubscribe or stop reading TGW altogether, let me say this…
I still buy gifts and do special things on Valentine's Day. But I don't do them only on holidays. Sometimes I bring home a candy bar or write a note in my awful handwriting just to say, "Hey, I like you!"
If you have time, read Romans 12:9-21. For today, I'll leave you with this…
"Be devoted to one another in love. Honor one another above yourselves." – Romans 12:10
Love well, my friends!
Matt
Matt Hastings lives with his wife Keri and their five children in Tullahoma, Tennessee. He is the pastor of the Estill Springs Church of the Nazarene. [Editor's Note: Matt has graciously allowed us to republish his weekly email devotionals on our site for our readers.]