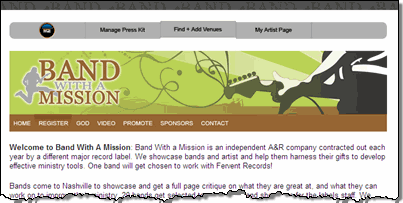 If you're a musician and you've got yourself a band looking for an opportunity to break into the Christian music scene, the Band With A Mission website should be your first stop (among many!).
Welcome to Band With A Mission: Band With a Mission is an independent A&R company contracted out each year by a different major record label. We showcase bands and artist and help them harness their gifts to develop effective ministry tools. One band will get chosen to work with Fervent Records!

Bands come to Nashville to showcase and get a full page critique on what they are great at, and what they can work on to improve their ministry. 20 bands get selected to come back and showcase for the labels staff. We then knock the number down to 5 bands. At this point each band will get coached in order to enhance their individual showcase. There is 1 final showcase for the 5 bands where Fervent Records will then choose 1 band to work with, and then construct a contract for that particular band/artist. (It sounds like a lot, BUT at the most, you will have to travel to Nashville 2 times) We are already booking dates for 2008!!!
Let us know if you're pursuing this, I'd love to cover your progress in achieving your goals on the Christian Music Fan website.