You're as close to God as you choose to be.
Each year we look to traditions to help us reorient our lives. New Year's celebrations bring us resolutions of exercise and dieting. Weddings remind us of our covenant with God. A birthday marks the reality of time and how fleeting it is. Our church participates in the Lenten season. This is a spiritual reorienting. We fast and pray. We make choices to resist and reject the things that we believe have satisfied us – food, Netflix, shopping, the list could literally go on and on!
I fast and pray because I believe that my life has been filled with too much. I've made myself busy and I need to situate my heart to hear His voice.
When I first entered the ministry, I heard people saying things like, "We need revival!" I listened because I was a young pastor. But as I got older and my responsibilities changed, I heard the same things but didn't see any real effort. What people want isn't always what they need. When we say we need revival, we don't mean we need more church services with emotional pleas. What we need is for people to hunger for intimacy with God and reject their selfish ways. Most people desperately want transformation but would rather not do anything difficult to get to it. Besides, we prefer Christmas and Easter. Those traditions are less invasive and frankly, a lot more fun than self denial and sacrifice. That doesn't fit well on a bumper sticker.
But hear me now…Lent is revival. It's an excuse to participate in a revival for your soul. It's an invitation to take a good look at yourself (a scary endeavor indeed) and allow God to rob you of the stuff that is clouding you.
If you don't feel close to God, let me help you; it's not Him…it's you. He didn't go anywhere. You're as close to Him as you choose to be.
Choose to draw close to Him with me this season.
Matt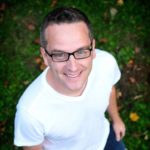 "Even now," declares the LORD, "return to me with all your heart, with fasting and weeping and mourning." – Joel 2:12
Matt Hastings lives with his wife Keri and their five children in Tullahoma, Tennessee. He is the pastor of the Estill Springs Church of the Nazarene. [Editor's Note: Matt has graciously allowed us to republish his weekly email devotionals on our site for our readers.]