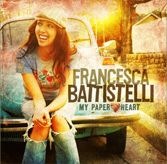 Here's an artist I'm not familiar with at all but she's making some news with a new website and upcoming performance in the Big Apple, New York City.
After visiting her website she's got a really strong voice and the song "Beautiful, Beautiful" sounds really good as well as "Behind the Scenes". You can listen to samples of both of these songs, as well as others, from her website as well.
(Nashville, TN) June 30, 2008 — Fervent Records' new singer/songwriter Francesca Battistelli is slated to make her debut performance in New York, NY at For Your Imagination on July 8 as part of "Live at FYI"'s concert series, in conjunction with the launch of her new community-based website, www.francescamusic.com.

Battistelli will perform songs from her upcoming Fervent Records / Warner Bros. Records release My Paper Heart including the most-added song at AC radio from a new artist this year, "I'm Letting Go," and the breakout song that challenges others to take action on issues that matter to them, "It's Your Life." "We're excited to be working with our friends at Fervent Records and Warner Music Group to help break this incredible new artist, Francesca Battistelli," said John Henkel, For Your Imagination's VP of Artist and Industry Relations and the producer of LIVE@FYI. "We look forward to being a part of Francesca's development into the star we all believe she is." To catch a live video webcast of the performance, visit www.francescamusic.com at 5:00 p.m. EST on July 8, 2008.

Also streaming on the website from July 8 to street date is Battistelli's full-length album My Paper Heart, set to release July 22 to critical acclaim. The "I'm Letting Go" EP recently went No. 1 on iTunes' Christian & Gospel page and is currently a Top 10 hit at AC radio. For more information, visit www.francescamusic.com.